Archduchess Elisabeth, 21 years, (Elisabeth Maria; 3 May 1863) is the daughter to Emperor Eduard I. She speaks fluent German, French, Latin, Italian and English. 
Early life
Edit
Elisabeth was born on the 3 May 1863 in the Schönbrunn palace in Vienna to her mother, Catherine. Her father was dealing with unrest in Prague. 
She was schooled in Vienna, but wanted to go to the Oxford University in England. Her father didn't want to let her, but eventually he gave in. She returned to Vienna after finishing her education in different languages and after graduate at the École nationale supérieure des Beaux-Arts. Passing most part of her time with her father at Schönbrunn palace, he taught her how to ride and how to act as a truly royal.
Marriage and Empress of Siam
Edit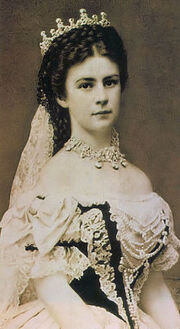 In 1884, the Crown Prince of Siam showed interest in the young Archduchess and arrangments for a marriage were being made already. However, as his father abdicated, Maximilian had to return to Siam to deal with internal affairs. Shortly after though, he returned to Vienna and proposed to her. She accepted. 

A grand banquet was held in Vienna. She expressed her concern to her father, who assured her that everything will be alright and that she will like Siam. She has been proposed to multiple times, but had to refuse the offers as the men proposing were not of royal blood or Roman Catholic religion. 
On the 12th of April, 1884 she arrived in Siam with her family and got married to the Siamese Emperor. Only a few days later Maximilian V was assassinated. And now she is widow.
Back to Austria
Edit
In 1st of May, 1884 she went back to Austria, and she stayed in Budapest at Buda Palace. But in 3 of May of 1884 some problems with her family let the Archduchess into heavy depression, but after some weeks she finally recovered.
Assassinations Attempts
Edit
In 4 of May of 1884 she was poisoned by slavics nationalists, with high risks of death, Elisabeth survived and was good till 3 of june of 1884 when travelling to Gödöllö Palace slavics nationalists fired with rifles against her carriage. The coachman lost the control of the carriage and it flipped, the Archduchess Elisabeth broke her arm and her knee was very wounded. She needed to walk for 19 miles till they find horses and Elisabeth, feeling so much pain, could go back to Vienna.
.