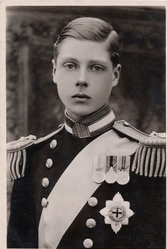 Early Life
Edit
The young Archduke was born in early 1870, in the Grand Palace of Bangkok. The son of Emperor Maximilian of Siam, Prince of Prussia and Archduchess Elisabeth of Austria. Soon after his birth, his Imperial father was shot by Nationalists and the young Prince was sent to Austria to be educated and brought up by his grandfather, Eduard I of Austria. His sister, Maria Theresa, stated in Bangkok.
Military Service
Edit
On his 14th birthday, the young Archduke enrolled at the Theresian Military Academy and graduated first in his class, excelling particularly in cavalry drill. He was put under the care of General von Hotzendorf as an Aide-de-camp. However a certain incident with some Slavic rebels took place and the Archduke was transferred to his Great Uncle Ferdinand Joseph's army. His current military rank is Kadett. The Archduke is performing in manouevers with the Southern Austrian Army. He is also and honorary Colonel of the Kaiserjager.
Official Title
Edit
His Imperial and Royal Highness, The Serene Prince and Lord Rudolf Wilhelm Franz Karl Joseph, Archduke and Prince Imperial of Austria, Prince Royal of Hungary, Bohemia, Croatia, Galicia, Lodomeria, and Ilyria, Prince of Lorraine, Count of Habsburg, Knight of the Order of the Golden Fleece. 4th in line to the succession of the Austrian throne.