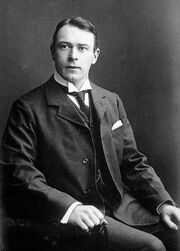 Police Commissioner Thomas Andrew VanHauser(born September 4, 1839) is the Police Commissioner for the Austrian Police Force. VanHauser has spent 15 years in the Austrian Police force according to its Personnel Records Department, serving in 10 different commands and as Police Chief since 1884-present. During his tenure with the Austrian Police Force, VanHauser has held most of the department's ranks except for the Three-Star Chief. He was promoted directly from Two-Star Chief to Chief of Police in 1884. After his handling of the 1882 Austrian Precent Shootout, he was mentioned for the first time as a possible candidate for Minister of Justice. After VanHauser turned down the position, Thomas Trotter was appointed.

Edit
Thomas VanHauer has an estimated 60.000.000 Kr in the bank from his high pay as Police Chief and Police Commissioner.
On April 23rd, 1884, VanHauser was promoted to Police Commissioner soon after was awarded the Civil Merit Medal for his actions during the 1884 Austrian Coups.
Personal 
Edit
VanHauser was born and raised on the Upper West Side of Vienna, to James F. VanHauser, a milkman, and Elizabeth VanHauser, a dressing-room checker. A fitness buff since his teens, he still regularly lifts weights and does aerobic exercises. He is also a snazzy dresser, favoring custom-made shirts which he has laundered at Geneva, a shirtmaker, and silk ties by Charvet. "A tie is the only true way men can make some sort of statement", VanHauser has stated, "I can tell when someone's wearing Charvet from a distance – even dark colors stand out." Claiming that good quality clothing enhances his public image as an authority figure, he orders custom hand-tailored suits from master tailor Martin Greenfield, who numbers politicians is among his clientele and whose suits run in the four figures.
Police Career

Edit
VanHauser joined the Austrian Police Department as a trainee in 1850. He graduated first in his class from the Austrain Police Academy and passed the sergeant's test 5 years later. This meteoric ascent combined with relative inexperience as a beat cop has prompted some criticisms from colleagues. According to Geoffrey Gray, "Some retired cops say VanHauser's swift ascent makes him a boss who doesn't understand the street. 'He's not a cop,' says one retired chief, dismissively. 'He's on patrol for a blink of an eye and tells guys on patrol ten years how to do their jobs.' Says another, 'He gives you all the ingredients to make shrimp scampi and says he wants sirloin steak.'"However, his long service stands in stark contrast to that of his predecessor, Bernard Kerik. Kerik served as an Austrian Police officer for only 4 years, before becoming Chief.